Many of you have heard of this popular show, available on Netflix, about the strange happenings in the small town of Hawkins, Indiana, and the group comprised of mostly kids and teens who find themselves in the perilous position of saving the world from a hostile takeover from another dimension.
Now currently in its third season, Stranger Things has attracted a wide audience, and inspired merchandise ranging from books and tee-shirts to coffee mugs and Funko Pops.  Why are we so taken with this show?
Science fiction and fantasy combined.  The characters are regularly pitted against creatures from the "Upside Down," an alternate reality that first appears to be an invention of Will, the would-be comic book artist, and which would easily fit into a sci-fi or horror movie.  With the exception of Eleven, played by Millie Bobby Brown, the team are not equipped with superpowers or special weapons.  This group of underdogs uses their brains, their friendships, and their luck to battle things the government won't acknowledge or can't handle. (At least until it comes to the cleanup and the obligatory non-disclosure agreement.)
I love the 80's culture.  Stranger Things takes place in the 1980s in the states, and embraces this, in all its glory. Big hair, shoulder pads, legwarmers, and popular movie/TV references abound, as does the music, from groups like Huey Lewis and the News and Wham.
Lucas waxes poetic about New Coke in one episode, which also features a reference to Chief Hopper as Magnum P.I.  A Russian assassin, Grigori, appears in the latest season that bears a certain resemblance, and attitude, comparable to The Terminator.  Add in government cover-ups, Russian sleeper agents, and conspiracy theories that are not just theories and you have the plot of the perfect 80's show, but with writing and special effects that demonstrate modern tech.
Nerd Love.  The "core" group of friends embrace their intelligence and differences freely. Dustin compliments Erica on her math skills "You're a nerd!"  They spend their free time playing Dungeons and Dragons, and use their knowledge of these games to theorize about the denizens of the Upside Down, and even to name the creatures from there-the Demogorgan, the Mind Flayer.  They use their connections with the audio visual club to help uncover vital details and ham radio equipment to communicate with each other, long before cell phones are common.
In the second season, the core group of boys-Dustin, Mike, Will, and Lucas- go to school dressed as The Ghostbusters for Halloween. Little do they know, but those costumes will soon become strangely appropriate.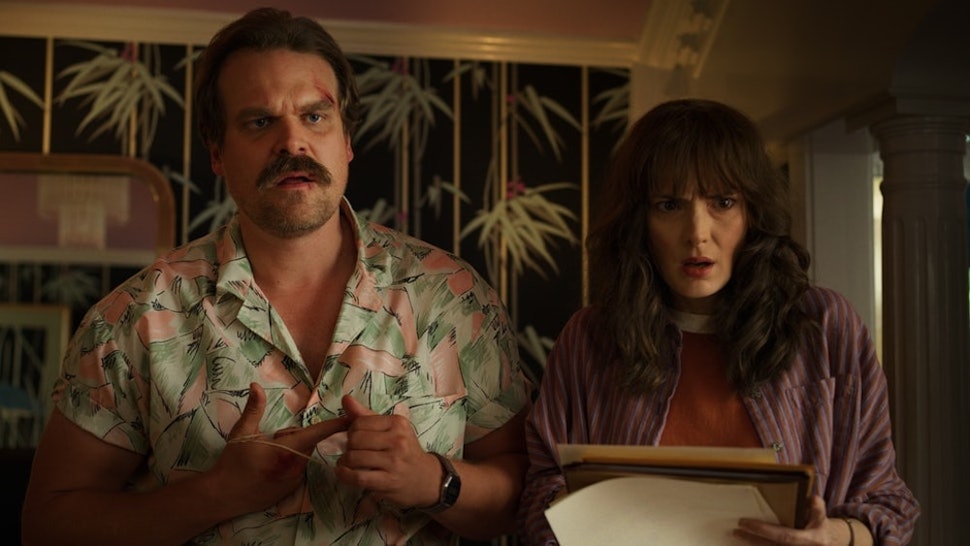 Hardcore Females.  While not all the heroic characters in this ensemble are female, there are plenty of girls in this equal opportunity action series to please even the pickiest of viewers.  Of course there's Eleven, the preteen telekinetic who's something of a superhero despite having spent most of her life confined to a laboratory, but she's hardly the only female character that stands out in the lineup.
New character Robin, the nerdy ice cream server, uses her gift of languages to decipher hidden Russian codes and help veterans Steve and Dustin infiltrate a hidden Russian base under the mall.
Nancy, the teenage angst-star from previous seasons, has evolved into a Nancy Drew-esque would-be reporter who chases down the truth, even at the cost of her job and in pursuit of rapid mutating rats.
Joyce, the mother character played by Winona Ryder, has proven over and over that she pulls no punches when it comes to protecting her children or doing what is right.  This season alone, we see her wielding shotguns, chasing after Russian spies, and yelling at both clandestine government agencies and conspiracy-theorists alike to accomplish her goals.
Beat the boredom of summer reruns on cable and check out this amazing show on Netflix!